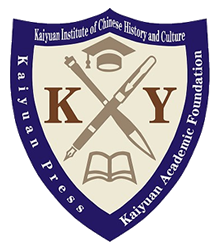 開源研究機構是若干歷史學者,秉承章開沅先生之志,於2017年在香港設立的非營利性、無黨派機構,致力於中國歷史文化,尤其是中國近現代史的研究與傳播。
開源書局(另設全資出版機構「民國歷史文化學社」)、開源學術基金會、開源中國歷史文化研究所為開源研究機構的三個組成部分。
歷史是一門嚴肅的社會科學,是一個群體、民族、社會和國家的記憶,對當前和未來的認知和行爲有重要的指導作用。如果膚淺、糊塗、謬誤,則帶來嚴重錯判,甚至釀成巨大災難。遺憾的是,在當今學界和公衆可獲取的近現代歷史學説不盡人意,且正本清源頗有困難,這是開源研究機構應運而生的重要原因。
中華文化源遠流長,然而經過歷史洪流的多次衝洗,散落環球。將其精華提煉並澤被後世,也是開源研究機構的重要責任。
開源書局出版相關方向的紙質書和電子書,歡迎有識之士投稿和訂購。
開源學術基金會是香港政府頒發牌照的基金會,資助範疇為相關學者的研究、出版、考察與求學。在綫接受申請,通過評定后給予撥付。
開源中國歷史文化研究所對相關研究工作進行策劃、組織、指導和評判,並對於認可的論文進行刊發。設有學術委員會,由數十位著名學者組成。
Kaiyuan Research Institute is a non-profit and non-party organization established in Hong Kong in 2017 by a number of historians, by the name and wish of Mr Zhang kaiyuan. It is dedicated to the research and dissemination of Chinese history and culture, especially modern Chinese history.
Kaiyuan Press, Kaiyuan Academic Foundation and Kaiyuan Institute of Chinese history and culture are the three components of Kaiyuan Research Institute.
History is a serious social science. It is the memory of a group, a nation, a society and a country. It plays an important role in guiding current and future cognition and behavior. If it is superficial, confused and fallacious, it will lead to serious miscarriage of justice and even great disaster. Unfortunately, the modern and contemporary historical theories available to the academic circles and the public are not satisfactory, and it is difficult to rectify them. This is an important reason for the emergence of Kaiyuan research institutions.
Chinese culture has a long history. However, it is scattered all over the world after being washed by the historical torrent. It is also an important responsibility of Kaiyuan Research Institutions to extract its essence and spread it to future generations.
Kaiyuan publishing company publishes paper books and E-books in related directions. People with insight are welcome to submit and order.
The Kaiyuan Academic Foundation is a foundation licensed by the Hong Kong government to support the research, publication, investigation and study of relevant scholars. Accept the application online and allocate after passing the assessment.
Kaiyuan Institute of Chinese history and culture plans, organizes, guides and evaluates relevant research work, and publishes approved papers. There is an academic committee composed of dozens of famous scholars.